This recipe just exactly fills a medium sized baby food jar if you're looking for something to store it in.
3T coconut oil
1/3 c baking soda
1/3 c corn starch
5 drops each lavender and tea tree oil
My friend has been using this homemade deodorant recipe for a while now but I was skeptical. I sweat like a...well...a thing that sweats a lot and I smell like a skunk when I do it. I wasn't ready to try it out until recently. I've never had deodorant work this well in my life. No going back for me! Now all of the moms in our friend group are making and using it. One of the moms pours the mixture into an empty deodorant tube and stores it in the fridge for a nice solid stick to use. The rest of us just dab it on with our fingers.
My daughter has a lot of friends which means I'm often busy making birthday presents for all of their birthday parties. Here's one of my favorites. This little washable, draw-your-own doll is a real hit with kids and is super easy to make. It would be a great first sewing project if you aren't proficient with a needle and thread (you can do it!) and it makes a wonderful gift or stocking stuffer. It should only cost you a dollar or two for the markers so it's a very affordable gift that you can give to a child of most any age. Kids love to draw their own friend which they can then keep that way forever or wash and redo it again and again. I have had good luck with Crayola washable markers which are made in the USA from recycled materials.
1. First,
print out the template
and cut out the pattern. You can change the size on your computer to make it as big as you like.
2. Take some white or natural fabric (cotton duck, muslin, etc. - I used some leftover osnaburg cut from a baby wrap I made) and cut two pieces the size of the pattern so you have a little bit of an edge all the way around.
3. Use something (I used a red Sharpie pen, not marker) to trace the pattern onto one side of the fabric.
4. Pin the fabric pieces together at the corners and center.
5. Sew all the way around the pattern on the line leaving a 2" hole in the top of the head.
6. Cut out the doll with sharp scissors all the way around leaving about 1/4" of fabric out past the stitching. Leave 1/2" flaps of fabric at the top of the head where the hole is. You'll tuck these in later and sew them.
7. Turn the doll inside out and stuff it. I like to use polyester batting from old pillows which I have washed. It washes well and polyfill is not treated with fire retardants. Use scissors or a dull pencil to poke batting down into the arms and legs well. Use your hands to shape the doll to prevent lumps.
8. Overstuff the head, then tuck the ends of the fabric down inside the doll's head.
9. Use an invisible ladder stitch to close the hole. You're done!
The dolls can be machine washed cold, then sponged with a dry towel and laid flat to dry.
You can make them a variety of ways. If you want them completely natural, use beeswax and Stockmar beeswax crayons to color them. (You'll need about 1/2" of crayon per color). If you want them a little cheaper, you can do what I did and use pure beeswax and color it with a tiny piece of regular crayon like Crayola. (You'll need 1/4 of a crayon per color unless you're making white and then use 2 to 3 times as much.) You can also make modeling wax out of plain paraffin wax. It's not natural, but no more toxic than regular crayons or store-bought modeling clay. You can buy it at a craft store or use saved pieces of melted candles.
Place approx. 2 tbsp beeswax (or other wax) into each section of a silicone soap or candle mold. Use only silicone. Plastic will melt in the oven and you may never get your wax out of a metal mold. Also, 2 tbsp is approximate. Just eye it. It doesn't have to be absolutely perfect. Add 1 tsp oil to each one of those. You can use vegetable oil. I used olive oil. Then place a piece of the crayon in each to add the color. Place the mold on a cookie sheet and put in the oven on 325 degrees Fahrenheit.
When the wax is completely melted, remove everything from the oven. Use a popsicle stick or something similar to stir each color well until all of the wax looks smooth and creamy. The wax may settle or separate a bit, so you might need to go back and stir each one again. Stop stirring if you see it starting to firm up a bit or you'll end up with messy-looking wax.
Let cool on the counter or wait until firm and then put in the freezer if you're impatient. Once completely cooled all the way through, pop it out of the molds. Use a rag to brush off excess.
These make really great stocking stuffers! I borrowed molds from a friend, so I went ahead and made 2 years worth of batches for my kiddos so I won't have to ask to borrow the mold again. The wax is firm, but softens well when warmed up in your hands while kneading it.
These are like the Stockmar beeswax modeling kits, but less expensive and homemade! This is also a great way to use those leftover pieces of crayons in the bottom of the crayon box that the kids never like to use.
This year, my daughter has a new little brother, so I made a winter play scene for her that has both of them with a little sled to ride and a little snowman to build.
I purchased the wood pieces very affordably from
this Etsy shop
. I made my own color wash using safe acrylic craft paints thinned with water. You can leave them as-is once dry or you can seal them with a handmade
beeswax polish
.
I purchased an undyed destash playsilk from a mama on Etsy for $7 to use as snow. I'll be wrapping up the whole set in the playsilk and slipping it into her stocking to find on Christmas morning.
I made these bendy dolls using chenille stems (pipe cleaners), embroidery floss, felt and 1/4" wooden beads. You'll need a little glue to keep the hats on. A simple blanket stitch is all you need and is easy to learn if you don't sew. Bendy doll tutorials are easy to find online.
I like this one
or you can just search "bendy doll tutorial" on Google and get several links.
Bendy dolls are super cheap to make, but I'll admit it does take a couple of hours to make each one. They make great stocking stuffers and they are the perfect size for a gnome treehouse. I made this family specifically to fit in
the treehouse I made
the kids for Christmas this year.
Check "bendy dolls" in Google images to see all of the different styles of dolls others make. I love the little fairy dolls that use fake silk flowers for their skirts.
I am just so floored about the newest toy my husband and I built for the kids for Christmas this year. It's a gnome tree home! I saw
this one for sale on Magic Cabin
and have wanted it for a couple of years and was determined to save up for it. Way out of our price range, but I saved up all of my Etsy earnings for an entire year to get it. When I went to order, I decided to check the reviews first, just to make sure I was getting my money's worth. As it turns out, it's a kit. They just send you some wood pieces and you have to design and build it yourself. For $150! I thought "I can get my OWN dang sticks from my yard for free!"
So I did. :)
We used a branch from a strawberry guava tree that my husband found on the road after the tree trimmers came by. It's a dense, smooth, gorgeous wood that is very difficult to work with because it is so solid, but worth it for its beauty and durability. The wood pieces we cut from an old shelf in our house. I have no idea what type of wood it is, but I'm sure most any type would work fine. We used a piece that was about 14x40" The round slices are wood rounds that I purchased from a couple of Etsy sellers.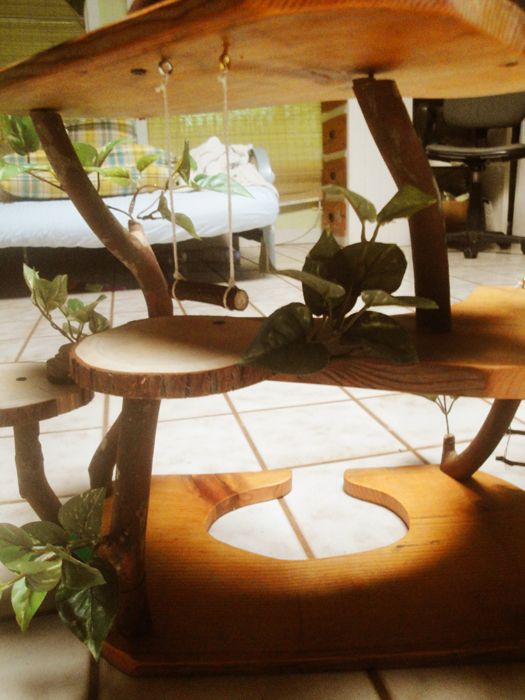 I drew the shapes onto the board with a pencil and my husband cut them with a cordless Ryobi saw. Then I sanded all surfaces and rounded the edges using my Mouse power sander. I used my beeswax polish recipe
found here
to polish and seal the wood but this step probably is not necessary. It does give the wood a gorgeous shine and makes it feel nice to touch.
It took a few tries to cut the branch so that the tops and bottoms were even so that the boards would sit level, but we got the hang of it after a bit. Use screws in the bottom to secure the branches to the board and then you can use small finishing nails in the top so it's less visible.
Once the whole thing was put together, I made stairs by gluing lots of 1.5 inch wood rounds together with wood glue. I nailed them to the frame using finishing nails and some wood glue. Tiny eye screws were used to fasten the hanging bridge, swing and rope ladder. These were all made from cotton twine I had lying around and sticks from the yard that I cut using a coping saw. There is also a little leaf-shaped hammock I made from felt which you can't really see in the photos (bottom right of first photo).
Lastly, we drilled holes in the branches and glued in some fake silk leaves.
There is a whole lot more that I have made to go with this toy, but I don't have photos ready for this post. There are some little gnome bendy dolls (coming soon) to go in it and I don't have tools fine enough to make furniture, so I ordered the furniture handmade using a fraction of the money I would have spent buying the kit to build a lesser version of what we were able to come up with on our own. I also picked up some tiny items from craft stores including miniature baskets, a tiny wood cauldron, some tiny wooden cups and bowls and I made two rugs out of felt that are cut to look like leaves.
I purchased the following furniture:
Handmade dining set:
http://www.etsy.com/listing/117652261/little-woodland-fairy-table-set
Woodland fairy cradle:
http://www.etsy.com/listing/117652344/little-woodland-fairy-cradles
Handmade bedroom set:
http://www.etsy.com/listing/115404142/little-woodland-fairy-bedroom-set
Fairy forest furniture set:
http://www.amazon.com/Fairy-Forest-Kitchen-Bedroom-Set/dp/B001AMK5E8/ref=pd_sim_t_1


1 part beeswax (I use about 1/4 cup)
1 part olive oil or a little less

The ingredients do not have to be precise, just try not to get too much olive oil.

Put your ingredients into a glass jar and set into a pot of water about 1 inch deep. Place the pot of water on the stove and simmer the water. You want to make sure you are using this double boiler method. Never place wax in a pan directly on the stove. It can catch fire. Always put the wax into a container set in a pan of boiling water.

Once your wax melts, swirl or stir the ingredients around until they are thoroughly mixed. Pour into a silicone muffin pan or muffin cup or into a small plastic Ziploc snap-top disposable/reusable food container (my preferred choice). Let it cool. You may need to stir it once during the cooling process to keep the ingredients from separating. I don't have any trouble.

Once it is cool, pop it out and it's ready to use. For wood, rub it all over the wood and then work it into the grain by rubbing it with your hands. It also makes your skin fantastically soft! Let the wood sit for at least a few minutes and then rub with a cotton rag. I use this on my baby's wooden toys to protect them from drool and it works beautifully on unpainted wooden toys for older kids as well.
Years ago, I ordered a huge box of about 15 lbs of beeswax on Ebay from Canada for about $35. I saved by buying in bulk and I use it for all kinds of things including candles, soaps, modeling beeswax for kids and beeswax wood polish for furniture and handmade wooden toys. It makes the wood look beautiful while protecting it and it smells fantastic. The recipe is simple:
I thought I'd share with you guys
A friend of mine heard that if you dry your laundry in an electric dryer, you can dry it on low to save money. It takes twice as long to dry, but uses a lot less power overall. She tried it and, surprisingly, it works! She has noticed a drastic decrease in her electric bill. Try it for a month or two and see if it works for you as well.
So, how DO I save money to afford my kids' awesome Christmas presents every year?
I have a PayPal account that I use to save money specifically to buy them. I never take money out of it. It ju
st sits all year, so I don't really realize it's there and we aren't tempted to spend it. I sell things I don't need on eBay and I also sell handmade things on Etsy. The money goes right into the PayPal account and I never see it. I usually have about $300-400 by Christmas to spend on the kiddos.
This year is going to rock! My husband and I are working on making a wooden gnome tree house
like this one
. (Pics when we're finished!) and I am working on making toys to stock
my Etsy toy shop
. They usually sell out by Christmas, so that will help a lot.
Or any time of year! Someone just asked this in another community and I thought I'd make a post.