If you or your kids love Campbell's Chicken Noodle Soup, here's a super simple recipe to make its twin at home yourself using leftover Thanksgiving turkey. The best part is, you can put more noodles or turkey in if you hate the way they skimp in the canned stuff.
For the broth, I always strain the juices from under my turkey and store them in jars in the fridge. This coagulates into a jelly-like substance. You can use your "turkey jelly," as I call it, or use chicken broth. Also, I add some frozen spinach to mine. Not much, just enough to give it some added nutrients. There's no taste and my daughter doesn't even notice it.
Thanksgiving Turkey Noodle Soup
Ingredients:
5 cups water
1/4 cup "turkey jelly" or use chicken broth in place of the water above
1 cup cooked, diced turkey breast
1 tbsp garlic salt
1/4 tsp black pepper
4 to 5 cups cooked spaghetti noodles, sliced or broken before cooking
1 small handful frozen or diced spinach (optional)
Combine all ingredients and bring to a boil. Serve hot.
photo by lusi


Ebay.

Yep, that's it. Ebay. I've found out I can hop on Ebay and purchase shoes for my daughter before she needs them. Now, just a quick glance at Ebay isn't going to yield great results. What you have to do is click over on the left on the little box that says "used."

"Eww!" you say? Read on.

Almost all of the used kids' shoes on Ebay are in fantastic condition. I've even gotten some with the tags still on. I don't waste my time with single pairs of shoes. I scroll down to the listings that have lots of shoes by size. It's easy-peasy to find used shoes in excellent condition sold by lot for next to nothing and I've not lost a bid yet so don't expect 50 people to be clawing their way over you.

I have been able to buy all of my daughter's shoes by lot size. I can get about 5 pairs of shoes at a time for around $10-15 including shipping. Yes, that's right. Including shipping. I can't even get one single pair of kids shoes at Payless for $10. I like to buy them in lots of various types such as one pair of sneakers, one pair of dress shoes, one pair of clogs and a couple of pair of flip-flops all in one size. One purchase covers all of my child's needs for about a year.

When the shoes arrive, I spray them inside and out with 90% rubbing alcohol and let them sit in the window to dry for a couple of hours. This effectively disinfects the shoes. If the shoes need any other cleaning, use a toothbrush and a bowl of warm water and soap (I use Dr. Bronner's) to remove dirt.

Here's a tip: Buy the shoes a size or two in advance so if some run small, your child can wear them now and if they're too big, you can just save them for when they do grow into them. You don't want to buy a bunch of shoes in your child's size only to find out half of them run small and won't fit.

And there you have it. Happy shoe shopping!
I happen to know the secret to buying kids' shoes and here it is. Are you paying attention? Good, because this is the great-granddaddy of all my favorite low-cost parenting secrets.


Ingredients:

1 cup all-purpose flour (I use 1/2 cup organic all-purpose and 1/2 cup organic whole wheat pastry flour)
1 tbsp sugar
1 tsp baking powder
1/2 tsp baking soda
1/4 tsp salt
1 cup milk
1 egg
2 tbsp vegetable oil

1. Combine dry ingredients in large glass measuring cup or medium bowl.
2. Combine wet ingredients in separate container, then add to dry ingredients and beat until smooth.
3. Pour onto greased griddle/pan and cook over medium-low heat until lightly browned on both sides.

You can also experiment by adding some frozen blueberries or other fruit to the mixture before cooking.
This is the best pancake recipe that I have ever had (but maybe your tastes run differently). Sorry, I can't remember where this recipe came from.


Ingredients:

1 and 1/2 cups chopped fresh carrots
1/3 cup dried lentils
1/3 cup brown rice
32 oz chicken stock (approximately, or you can use plain water)
1/2 tsp garlic salt (or 1/4 tsp salt and one smashed garlic clove)
1/4 tsp black pepper
1/4 cup grated cheddar
1/2 tsp olive oil (optional)
water

(I also like to sometimes add any leftover extra veggies I might have sitting frozen in bags in the freezer that were too small a portion to cook up for the family.)

1. Soak lentils at least 1 hour. Drain and rinse.
2. Boil lentils in plain water for 10 minutes. Drain and rinse. (This step is optional, but helps prevent gas.)
3. Add all ingredients except cheese and bring to a boil. Then turn to LOW and let simmer 30 minutes, periodically skimming foam off of top. (The foam causes gas.) Add water as necessary.
4. Remove from flame, add cheese and stir.
5. Let soup sit covered for 1 hour to allow the rice to puff and soften.
Here's assuming you get the same WIC items in your state that I do. In this case: lentils, brown rice, vegetables and cheese.
I thought I'd pass along this link to
Still want a Waldorf doll but can't sew a stitch to make your own and dolls for sale are too expensive? Here's a fantastic alternative. These Twin Dolls are handmade in Zimbabwe and not only are they FAIR TRADE, they support a wonderful cause!
"A purchase of this doll not only provides a gift for a loved one; its "twin" will be given to a child in a family affected by HIV/AIDS in Zimbabwe, most of whom have no other toys. The dolls are part of a unique project of Batsiranai, a women's handicraft project that supports mothers with disabled children in Harare, Zimbabwe. Batsiranai, which means "helping each other," was originally formed as a self-help group for these women. Creating the "twin dolls" has become a successful income generation initiative. Women work in teams to make the dolls, sharing tasks according to their ability.
The "twin" for your doll is distributed in one of a number of ways. Some dolls are shared through organizations working with needy families affected by HIV in the greater Harare area. Given a priority to distribute the dolls in rural areas, Batsiranai has also linked with an organization called Zvitambo, funded through Johns Hopkins University and other donors with the mission to reduce HIV transmission. Zvitambo promotes exclusive breastfeeding for babies of mothers who are HIV+ until age six months, as this has dramatic effects on reducing morbidity and mortality of babies. Zvitambo holds clinics in very remote parts of Zimbabwe to teach about prevention of HIV transmission campaigns from mothers to babies. The dolls are distributed to children during these awareness campaigns. Reports from Zvitambo of responses to the doll distribution are heartwarming."
For only $28 at Ten Thousand Villages, you can give one of these beautiful dolls to your child or a friend as a gift and make another child's day very special.
I am so inspired by these beautiful henna wedding cookies from
Sprinkle Bakes
. I think they would make a fantastic and heartfelt wedding gift for any couple. It's an inexpensive gift that is both affordable for the maker and would be beloved by the receiver. If you're really talented and have the time, you could even make them as wedding favors for your own wedding.
Time to start getting ready for Christmas! Okay, yeah, I know it's a bit early in the year, but if I don't get started now, I'll never have everything done in time.
How about this cute felt bunny from
Hazelnuts
?
Or choose from lots of peg doll designs at
The Crafty Crow
.
Rainbow play dough from
Tinker Lab
.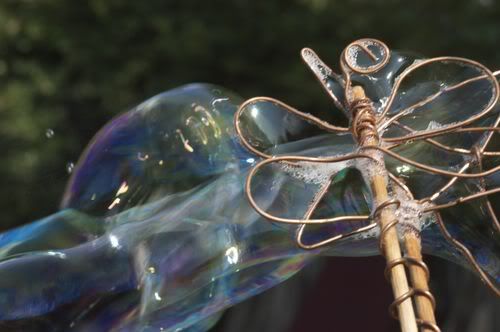 Homemade bubble wands from
LuSa Organics
.
Fashion Paper Doll Kits from
Bookhou Crafts
.
Simple wooden tops from
Kleas
.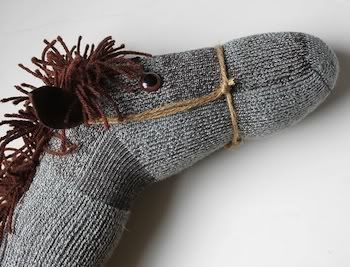 Or try this upcycled hobby horse from
Dandee
.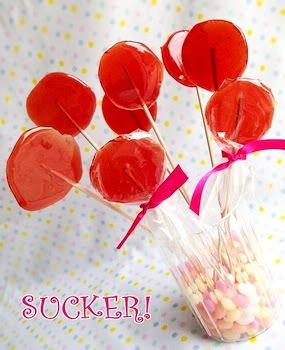 Make your own suckers for stocking stuffers at
Bird's Party
.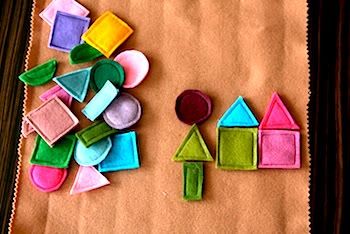 Here are some really nice and simple play shapes you can make from felt at
Origami Mommy
.
Free Christmas tree decorating printable at
Babalisme
.
Block puzzle by
Chasing Cheerios
.
Current Mood:

creative
Do you know why I love my Kindle? Because it's tiny, weighs less than a book (so it's easier on my wrists) and I can download a book in seconds. Literally. (I hope you caught that pun because I'm rather proud of it.)
Best of all, there are tons of free ebooks out there just waiting to be downloaded. Some are great. Some are not-so-great. Some are downright awful, but if they are free, you can't complain. Just delete them.
A lot of traditionally published authors are putting up free ebooks for a limited time only to interest readers in their other books. Since these free books can be difficult to find if you're having to look every day, Kindle Nation Daily has set up a free book tool that posts all of the free books from Amazon when they are uploaded. You don't have to search through Amazon anymore. I just check the website every few days to see what's new.
Free Ebooks and Kindle Nation Daily
You can also download tons of free ebooks for nearly any device at Smashwords. You may have to do a little searching here, though. They do list books under a "free" section. Just click the genre you want and at the top of the page click
Filter by > Free ebooks
.
Smashwords
Can't get the books you really want for free? No problem! BookLending is a new website (still in beta) that allows Kindle users to find books they want online and borrow from each other. Membership is totally free. Check it out!
BookLending
(
Read more...
Collapse
)
I got a Kindle as a gift for my birthday and have been just THRILLED with it. I can't tell you how happy I am. We moved a long way out in the country and I don't get to the library much. Plus, when I do, I'm loaded down with kids' books for my daughter to last until we make it to town again, so lugging around a few novels on top of it is torture.